Royal Thistle
Blended Whisky

Details
| | |
| --- | --- |
| Distillery | Blended Whisky |
| Style | Blended Scotch Whisky |
| Bottler | Meadowside Blending Co. Ltd. |
| Alcohol | 40 % vol. |
| €/Bottle | € 25,-- (70 cl) |
| Item Number | MMRT |
Additional Information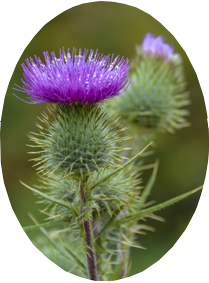 The thistle is the flower of Scotland and has been the emblem of Scotland for centuries.
The first use as a royal symbol was on silver coins issued by James V in 'The Order of the Thistle', the highest honour in Scotland, founded by James III in 1540.
It has the motto 'Nemo me impune lacessit'='No one harms me without punishment'.
The Royal Thistle is an outstanding blended whisky. The producers have sourced some of the finest casks available in Scotland, from Speyside, Islay and the Highland region.
Tasting Note: The colour is amber with a honey and floral nose.
The palate is soft and medium bodied with some dark chocolate, mocha and a hint of spice.
The finish is velvety smooth in texture with warm toffee notes. A well balanced dram.