Dear CÀRN MÒR SOCIETY Members!
After some time passed we plan a very special tasting and kindly invite you to: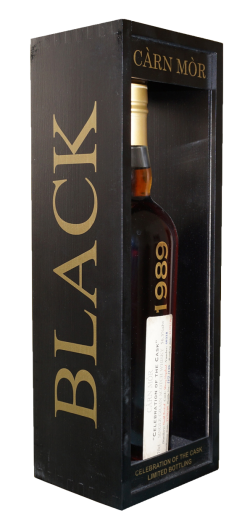 CÀRN MÒR BLACK GOLD EDITION
Scottish Gold from the Sherry Cask
Friday, 31 October 2014, 20.00 o'clock,
at the restaurant
"EssKultur" (www.ess-kultur.at)
Marxergasse 14, 1030 Vienna
Max. 30 participants
Contribution Whiskytasting: € 66,–/Person
On the occastion of the renaming of the Scottish Liqueur Centre into Morrison & Mackay Ltd six extraordinary casks have been bottled. Not only the limited availability of these Single Malts created an increased interest. An excellent distillate and especially the immaculate quality of the hogshead sherry casks together with the indispensible maturation process generated these incomparable Single Malts. Look forward to the interesting story of these casks/whiskys!
Morrison & Mackay Limited (previoulsy Scottish Liqueur Centre) acquired some time ago a cask North British 1989, Bunnahabhain 1995, Glenrothes 1989, Highland Park 1989 und Macallan 1985 for their Black Gold Ediiton and complemented the series with their own cask of the distillery Speyside.
When: Friday, 31. October 2014 at 20.00 o'clock
Where: Wiener Beisl "EssKultur" (www.ess-kultur.at) Marxergasse 14, 1030 Vienna
Contribution: € 66,-/Person
Max. 30 participants
Important: Please transfer the contribution of € 66, – to the account IBAN: AT02 2011 1300 0106 5720, account Nr. 300010-65720, with Erste Bank AG, BIC: GIBAATWWXXX, BLZ 20111, recipient: Gillespie & Partners GmbH, Kantgasse 3, 1010 Wien, adding the reason for payment and your name "Name (John Sample) and Càrn Mòr Tasting". In addition please also register by sending an e-mail to office@gillespiepartners.com.
Looking forward to seeing you on 31 October 2014
Thomas Gillespie
Speyside 1997
North British 1989
Bunnahabhain 1995
Glenrothes 1989
Highland Park 1989
Macallan 1985