F U L L Y   B O O K E D
Dear Càrn Mòr Society Members!
In Celebration of HM QUEEN ELIZABETH II 90th Birthday we present on June 10th, 2016, a day prior to the "Trooping of the Colour" in London, a special and unique bottling of a Single Malt Scotch Whisky.
The story: Gillespie & Partners buys a cask in Scotland containing single malt whisky.
On HM the Queen's birthday, April 21st this Macduff single malt was distilled and exactly eight years later, today, the 21st of April 2016 this single malt whisky is bottled yielding a mere 312 bottles.
The label had to be approved by Lord Chamberlain's office (see below an excerpt of the letter)
Dear Mr. Gillespie,
Thank you for your email with your proposed label to mark The Queen's 90th birthday.
We would have no immediate objection to your proposal, based on the materials and explanation in your email. We are however unable to formally approve or endorse your proposal.
To enable manufacturers to mark Her Majesty's 90th Birthday, the usual rules governing the commercial use of Royal Photographs and Insignia have been temporarily relaxed to allow their use on certain souvenirs.
Yours sincerely,
Charlotte Martin
Charlotte Martin | Secretary | Lord Chamberlain's Office
Buckingham Palace | London | SW1A 1AA
www.royal.gov.uk
"HM Queen Elizabeth II 90th Birthday 2016 Single Malt Scotch Whisky" and following other single malt and single grain whiskies – North British 1988, Invergordon 1987, Carsebridge 1982, Ardmore 2011, Blair Athol 2010, Glen Spey 2000, Glenlossie 1997, Bruichladdich 2002 und Ledaig 1997 – will be presented at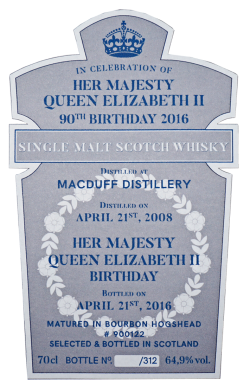 s'Baumgarten in Linzerstrasse 297, 1140 Wien
(5 -8 minutes walking distance from the subway U4, the tram nr. 52 stops in front of the house)
on 10. Juni 2016
Starting at: 6 pm
Whisky Tasting starts at: 7 pm
Following menu will be served: Waldorf salad with fried crayfish, " A Roast of Beef" with skirlies and vegetables or asparagus with sauce hollandaise and as desert "pear in red wine sauce".
For Càrn Mòr Society Members and their friends the contribution for the whisky tasting and dinner will be 48,- p. P.
The minimum number of guests is 20 and the maximum number of attendants is 35. Please make sure to make your booking well in advance.
Important:
Please transfer your contribution of € 48,- to the following account IBAN: AT02 2011 1300 0106 5720, account nr. 300010-65720, with Erste Bank AG, BIC: GIBAATWWXXX, BLZ 20111, in favour of Gillespie & Partners GmbH, Kantgasse 3, 1010 Wien, "reference name (John Sample) and Tasting 10.6.2016".
In addition please send your registration via e-mail to office@gillespiepartners.com
I am looking forward to meeting you on 10. June 2016
Thomas Gillespie